I am going to explain a conservative strategy to be applied in McDonalds (MDC), taking advantage of good Earning results.
Fundamentals
MCD had Earnings showing very good results (EPS $1.15 vs Wall Street view of $1.11). This company belongs to Services sector (Restaurants). It has a Dividendof 3.6%
Intrinsic Value: $70
Next Earnings: Jan
52w range: 50.44-64.46
Beta: 0.65
Sentiment
In the short term, volume is quite normal and sentiment is stable. In the long term, open interest shows sign of bullish sentiment.
Technical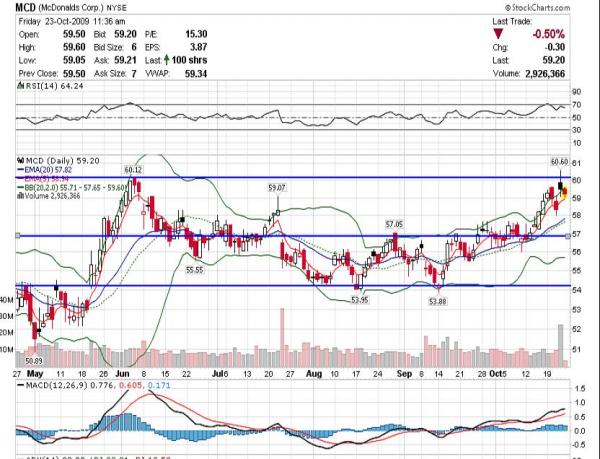 MCD is in a bullish trend but there is a resistance level at 60. Below, the 57 level would be considered as support.
My expectancy is that in the short term the stock moves in the lateral range between 57 and 60.
Strategy
Covered Call: Long Stock $59.68 + STO SC DIC 60 ($1.10)
CB = $58.58
There is a Dividend in December ($0.50), that would reduce more our CB and increase our profit.
Primary Exit (Bullish, price over 60): if price reach December expiration and it is over $60, we are assigned and get max profit ($1.92 = 3.22% ROI in 55 days)
Secondary Exit (Stagnant, price between 60 and 57): we wait to expiration and if price is below 60, we keep the premium (ROI 2.68%) and apply new Short Call.
Secondary Exit (Bearish, price breaks 57): we adjust position to a Collar trade.
Disclaimer: this strategy is only for educational purposes. It must not be considered as recommendation.
SharkOpciones