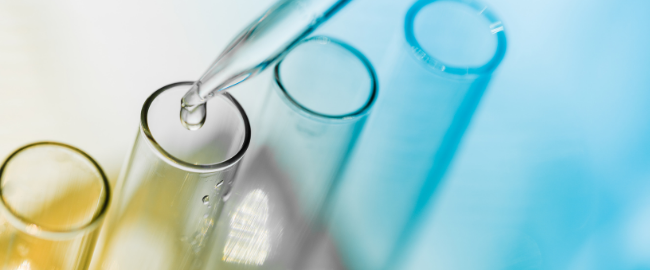 Biogen Inc. is an American multinational biotechnology company based in Cambridge, Massachusetts, specializing in the discovery, development, and delivery of therapies for the treatment of neurological diseases to patients worldwide. Biogen was founded in 1978 in Geneva as Biotechnology Geneva by several prominent biologists. In February 2020, Biogen and Sangamo Therapeutics announced a global licensing deal to develop compounds for neuromuscular and neurological diseases.
31 Wall Street analysts have issued ratings and price targets for Biogen in the last 12 months. Their average twelve-month price target is $362.89, predicting the stock has a possible downside of 10.82%. The high price target for BIIB is $500.00 and the low-price target for BIIB is $244.00. There are currently 17 hold ratings and 14 buy ratings for the stock, resulting in a consensus rating of "Hold."
Let's start our analysis with the commonsense metrics. Over the last 52 weeks it has traded as high as $468.55 and as low as $223.25. This tells us that the annual trading range is $245.30. The average weekly trading range is $4.71. We use these metrics as a common-sense baseline that we look to amplify greatly whenever we look to trade this asset.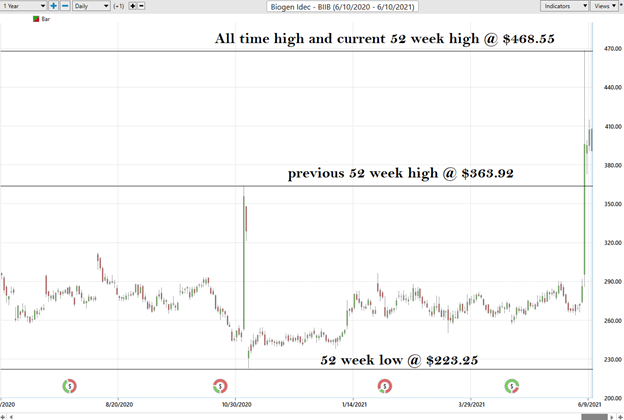 One of our navigating guidelines is to pay attention to assets that are making new 52-week highs. The idea here is that when an asset is experiencing range expansion and moving to higher prices, we should put it on our radar to for deeper study and analysis. Winners WIN and this applies to stocks every bit as much as it applies to individuals and teams.
When we look at BIIB we see a rangebound asset for all of 2020. However recently it breached its 52-week high with a massive up move and quickly went to new all-time highs.
Our fundamental contention is that investing and trading in biotech stocks can be extremely risky because these assets are driven by patent protection and approval from governmental authorities. Patent protection when it occurs creates explosive trends. However, when it is denied, it does the reverse. Many biotech stocks face huge risks when their main drug loses patent protection. Biogen (BIIB) for the entirety of 2020 was awaiting FDA approval on a new Alzheimer's drug called Aducanumab. For the last 12 months the stock was essentially in a holding pattern awaiting the FDA approval of denial of this new Alzheimer's treatment. The FDA was slated to make a decision by March but delayed their review until May. Biogen has lost patent protection on their top selling drug last year leading to 2020 a large sales drop.
The FDA gave aducanumab approval recently. This drug claims to treat the underlying cause of Alzheimer's disease. Great controversy exists regarding the FDA approval since one of the clinical trials related to this drug failed. But with 5.8 million Americans diagnosed with Alzheimer's, the projections are that Biogen (BIIB) will generate $5.7 in revenue from this drug over the next few years.
Analysts who are wildly bullish on the stock claim that there is next to no competition for this drug so BIOGEN (BIIB) will have ownership of the entire market and they feel that within a short window of time the company will generate over $10 billion per year in revenue from this recent approval. Biogen will market the drug under the brand name Aduhelm.
Goldman Sachs has projected $12 billion in peak sales for Aduhelm. Other Wall Street analysts aren't quite as optimistic, but their sales numbers are still very, very bullish. The majority of Wall Street estimates range between $5 billion on the low side and $10 billion on the upper end.
The main issue for the stock is whether physicians will or will not prescribe the drug. Some doctors stated in advance of the FDA's approval decision that they wouldn't prescribe the drug to patients with Alzheimer's because of their concerns about Biogen's clinical results. A large number of prominent doctors have made very public announcements that they disagree with the FDA's ruling.
Aduhelm is the first drug for treating Alzheimer's disease to win FDA approval since 2003. It is also the first approved therapy which claims to slow cognitive decline. With few alternatives, Biogen has set the foundation to have a mega blockbuster on its hands for the next few years.
The Vantagepoint A.I. Analysis
Whenever we look at a stock forecast, we always are comparing what the stock has done, to the artificial intelligence, which is computing its forecast based upon a proprietary intermarket analysis of the most closely correlated assets as well as a neural network computation.
The key to the Vantagepoint analysis is the predictive blue line. The slope and general direction of the blue line determines the medium forecast for the market.
The Vantagepoint Software has three separate modules which create a forecast for a Power Trader. They are the predictive blue line, the Neural Net, and the Intermarket Analysis.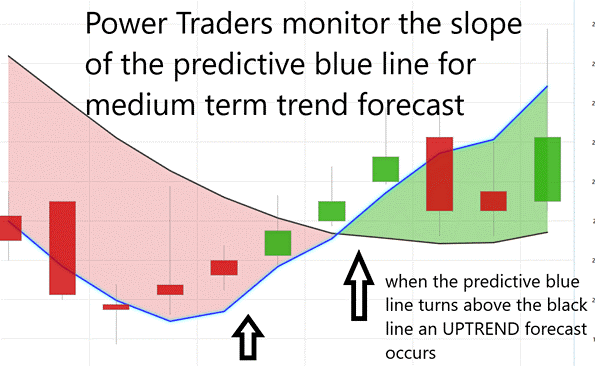 We will place our focus upon the Vantagepoint Software forecast starting at the end of May. If you analyze the following graphic, you can see the A.I. forecast without the price bars. The A.I. created an UP forecast on June 4, 2021, one day before the price exploded 38% higher.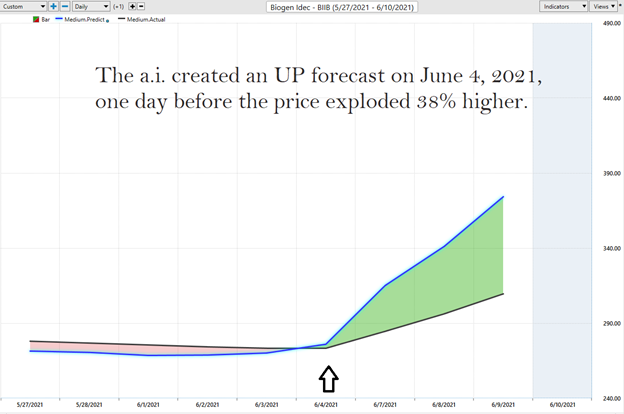 At the bottom of the chart is the Neural Network Indicator which predicts future short-term strength and/or weakness in the market. When the Neural Net Indicator is green it communicates strength. When the Neural Net is Red it is forecasting short term weakness in the market.
We advocate that Power Traders cross reference the chart with the predictive blue line and neural network indicator to create optimal entry and exit points.
Power Traders are always looking to apply both the neural network and A.I. to the markets to find statistically sound trading opportunities.
Here is a graphic of the BIIB daily price chart with the daily price bars, the A.I. forecast and the NeuralNet indicator. You can see that the Neural Net began anticipating strength on June 2nd. The A.I. forecast confirmed that higher prices would follow beginning on June 4th.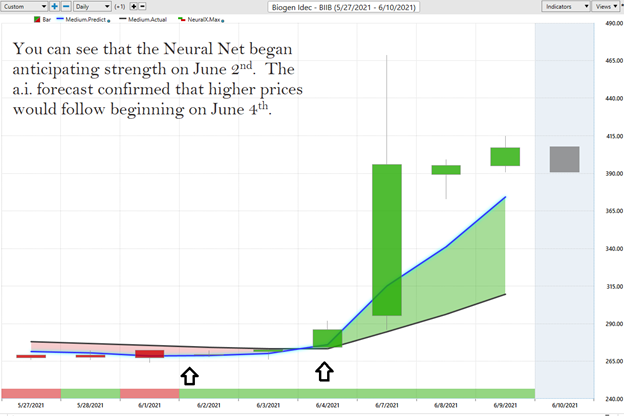 Intermarket Analysis
We live in a global marketplace. Everything is interconnected. The billion-dollar question for traders is always what are the key drivers of price for the underlying asset that I am trading?
Small changes in Interest rates, Crude Oil Prices, and the Volatility of the dollar amongst thousands of other variables affect the decisions companies must make to survive in these very challenging times. Trying to determine what these factors are is one of the huge problems facing investors and traders.
There is great value to be had in studying and understanding the key drivers of BIIB price action. universe and the most statistically correlated assets. These factors are all displayed from a standpoint of statistical correlations which show the strongest interconnectedness of prices.
The following graphic shows the most statistically correlated assets to Biogen (BIIB). From this powerful analysis you can quickly see the positive and negative correlations for this stock.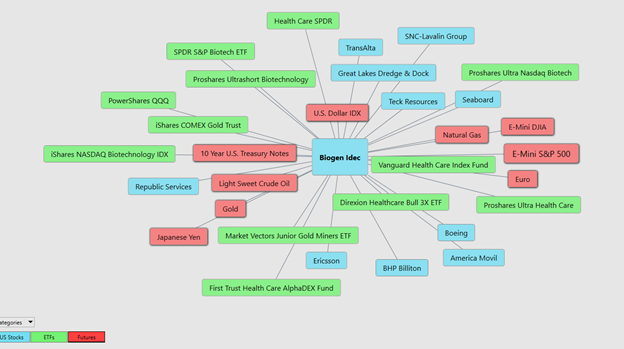 What Exactly is Happening with BIIB?
The success of Aduhelm comes with a giant warning. Biogen must conduct another clinical study to verify the benefit of Aduhelm. Should that study fail to provide clinical benefit it is very possible that the FDA will force the company to withdraw the drug from the marketplace.
Biogen has strong growth prospects now that Aduhelm has received FDA approval.
The company has a market of $60 billion after shares exploded higher on Monday. That's roughly six times Biogen's expected sales in 2021 that include only a relatively small contribution from Aduhelm. This could be a great trading stock with huge volatility and more and more liquidity. At the present there is a tremendous amount of panic buying as most on Wall Street did not expect the company to receive regulatory approval. If you got in before the huge run you could be looking to take profits now. We do think this will prove to be a great swing trading candidate in 2021 and have it firmly on our radar. We likely expect the recent all-time highs $468.55 to provide a lot of resistance in the market over coming weeks.
We advise power traders to monitor the A.I. forecast daily. Biogen has a fundamental narrative that will create huge price swings over the coming weeks. This is a dream environment for seasoned traders but very problematic for value investors.
Let's Be Careful Out There!
Remember, It's Not Magic.
It's Machine Learning.
IMPORTANT NOTICE!
THERE IS SUBSTANTIAL RISK OF LOSS ASSOCIATED WITH TRADING. ONLY RISK CAPITAL SHOULD BE USED TO TRADE. TRADING STOCKS, FUTURES, OPTIONS, FOREX, AND ETFs IS NOT SUITABLE FOR EVERYONE.
DISCLAIMER: STOCKS, FUTURES, OPTIONS, ETFs AND CURRENCY TRADING ALL HAVE LARGE POTENTIAL REWARDS, BUT THEY ALSO HAVE LARGE POTENTIAL RISK. YOU MUST BE AWARE OF THE RISKS AND BE WILLING TO ACCEPT THEM IN ORDER TO INVEST IN THESE MARKETS. DON'T TRADE WITH MONEY YOU CAN'T AFFORD TO LOSE. THIS ARTICLE AND WEBSITE IS NEITHER A SOLICITATION NOR AN OFFER TO BUY/SELL FUTURES, OPTIONS, STOCKS, OR CURRENCIES. NO REPRESENTATION IS BEING MADE THAT ANY ACCOUNT WILL OR IS LIKELY TO ACHIEVE PROFITS OR LOSSES SIMILAR TO THOSE DISCUSSED ON THIS ARTICLE OR WEBSITE. THE PAST PERFORMANCE OF ANY TRADING SYSTEM OR METHODOLOGY IS NOT NECESSARILY INDICATIVE OF FUTURE RESULTS. CFTC RULE 4.41 – HYPOTHETICAL OR SIMULATED PERFORMANCE RESULTS HAVE CERTAIN LIMITATIONS. UNLIKE AN ACTUAL PERFORMANCE RECORD, SIMULATED RESULTS DO NOT REPRESENT ACTUAL TRADING. ALSO, SINCE THE TRADES HAVE NOT BEEN EXECUTED, THE RESULTS MAY HAVE UNDER-OR-OVER COMPENSATED FOR THE IMPACT, IF ANY, OF CERTAIN MARKET FACTORS, SUCH AS LACK OF LIQUIDITY. SIMULATED TRADING PROGRAMS IN GENERAL ARE ALSO SUBJECT TO THE FACT THAT THEY ARE DESIGNED WITH THE BENEFIT OF HINDSIGHT. NO REPRESENTATION IS BEING MADE THAT ANY ACCOUNT WILL OR IS LIKELY TO ACHIEVE PROFIT OR LOSSES SIMILAR TO THOSE SHOWN.