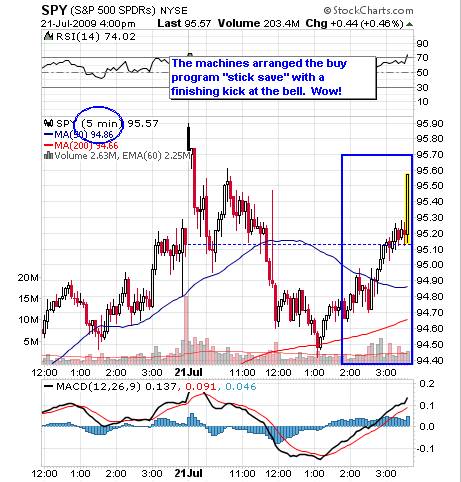 What a pretty picture "THEY" painted yesterday!
I titled yesterday's post "8,900 or Bust" and it did look like a bust around lunch as we tested our hold targets of Dow 8,800 (8,811 was the low), S&P 946 (944), Nas 1,860 (1,892), NYSE 6,200 (6,084) and Russell 530 (518)but,just after 1pm, a miracle occurred and the buy programs kicked in, leading to an absolutely frenzied finish that brought us right around our upside targets of Dow 8,878 (finished at 8,915), S&P 956 (954), Nas 1,909 (1,916), NYSE 6,231 (6,154) and Russell 535 (525).
Both the Russell and the NYSE were pumped up near their breakout targets first thing in the morning but both failed there and both broke below "must hold levels." Keeping an eye on our levels allowed us to make bullish plays on ZION (hedged to $10.16 and another at $9), IWM (that one stopped out), C (bull call leaps) andCAL (hedged to $7.50). We also added more YUM callsin our $5,000 Portfolio as well as a bearish ratio backspread on WFC, expecting them to have rough internal numbers, as are many banks thisQ (something that kept us from being too bullish overall). We covered all this bullishness by halfuncovering our long DIA puts, still wary of a pullback but ready to re-cover (flipping bullish) if the Dow holds the nonsense move they made into the close. As I said yesterday – keep up the nonsense for a couple of days in a row and it starts looking like firm support.
As we were discussing in Member Chat last night, perhaps it's notall nonsense. Take a look at this visualization of earnings beats by Bespoke. I said back when we went bullish two weeks ago that we need 66% of the S&P to beat estimates in order to sustain arally and we are now well ahead of that pace with almost 72% of the reporting companies coming in BTE. How bearish can you be in the face of such overwhelming results? Yesthe expectations were lowand yes the "beats" are still coming in with revenues that areabout 20% or solower than last year but 20% is not40%, and that's how far off the topour markets still are. These numbers are market FACTS, as opposed to the rumors and panic that took us down to the low end of our trading range just two weeks ago, when I literally had to fight the bears off with a stick!