There is nothing scarier than trying to buy a massive upside gap-up in a leading stock.
WAS IT THE FISH THAT GOT AWAY?
Take a look at Figure 1 below for a good example of the sort of move we are talking about. The chart illustrates quite nicely just how "high" such a move looks when it first occurs. Psychologically, the initial conclusion one might draw by observing such a wild upside price move is that the stock is simply "too high to buy" and therefore one must simply chalk it up as a fish that got away.
Stock "XYZ" gaps up on huge buying volume – too "high" to buy? Chart courtesy of HGS Investor Software, (C)2013, used by permission.
BIG GAPS CAN BE GOOD BUY SIGNALS
Surprisingly, however, our studies show that such gap-up moves, when they meet certain criteria, can often serve as a very "safe" and actionable buy signals. While this might seem counter-intuitive to most traders, the fact is that when these occur as a stock is initially emerging from a constructive consolidation or a well-formed, shallow uptrend channel, they can often signal the start of a massive upside price move.
In Figure 2 we can see that the stock in question was Apple (AAPL) in January 2012, and the ensuing price move from the gap-up level at around $444 took the stock to an all-time price high of $705.07-per-share by September of that same year.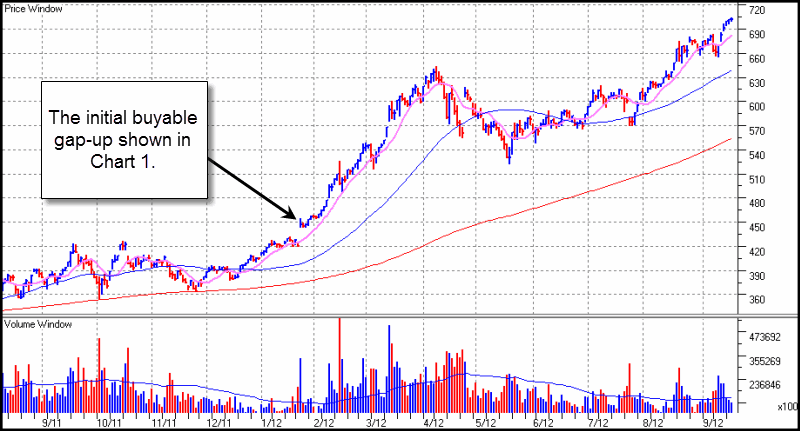 Apple (AAPL) daily chart showing the initial gap-up move in January of 2012 from Figure 1, above, and the ensuing price move to an ultimate high of $705.07-per-share.
HERE'S THE TRADING RULES
How does one determine whether such a gap-up move is in fact buyable?
The first rule is that only quality, leading stocks with strong fundamentals should be considered (e.g., excellent earnings, sales, return on equity, pretax margins, industry group, institutional support, etc.). The stocks should also have top-quality technical characteristics in that the price/volume action leading up to the gap up day should be constructive. For example, stocks gapping up within overall downtrends should be avoided. One should also stick to liquid names that generally trade at least $12-15 million in average daily dollar volume for small-cap stocks, and $20 million or more if the environment is not favoring small-cap stocks.
The stock must gap up at least 0.75 times its 40-day average true range (ATR), but in general the move should be of sufficient magnitude such that one could just as easily eyeball the gap up on a chart. The volume on the gap-up day must be at least 1.5 times, or 150% of, the 50-day moving average of daily trading volume. If the stock has less than 40 days of trading history, an insufficient amount of time to generate a 40-day ATR or a 50-day moving average of volume, one can eyeball the chart to see if the gap up move and the volume are sufficiently large on a relative basis.
LOW RISK ENTRY
Now what makes buying these gap-up moves, or "buyable gap-ups" as we like to call them, so simple to execute is that in general the risk of taking a position in such a gap-up move is relatively low. This is because we use the intra-day low of the gap-up day as our selling guide. If the stock drops below the intra-day low within five trading days after the gap-up day, one can allow the stock to undercut the intra-day low of the gap up day by a 1$ to 2.5%, depending on the volatility of the stock. If the stock falls below the intra-day low of the gap-up day on the sixth day or later after the gap-up day, then it should be sold at that point.
COMPELLING REWARD
This a very simple, low risk method for getting on board huge gap-up moves that market history has shown can lead to tremendous upside price moves. What is often "too high to buy" scares away the crowd and creates a contrarian basis for the success of buyable gap-ups. And while not all buyable gap-up set-ups will work and end up stopping you out, the potential for catching a strong and sustained upside move can make for a compelling risk/reward proposition.
= = =
Related Readings:
Gain Your Stock Edge: Buyable Gap-Up Strategy
Gap Trading History of the Major Candlestick Patterns